Say nothing!
W

hatever

you do, don't mention the war.

I did once, but I think I got away with it.

Fortunately, Volkswagen is more circums

pect. Despite the 2013 Beetle Turbo Convertible having been inspired by VW's 1949 Type 1, the company draws the line at mentioning the war – or even the decade in which it was fought – in its retro line-up.
This means that while buyers can get their new VW cabrios done up in '70s, '60s, and even 1950s fashion, any trim-level suggesting a
German staff car as pursued by P-47s down a forest road in the Ardennes is
verboten.
Overrunning countryside, postwar style: The 1949 Type 1
Of course, imposing retro designs on a car that began as one tends to confuse things. Truth to tell, the Beetle and its fastback forebears have always been retro. Even the '49 model that served as our test car's design buck was barely distinguishable from its 1935 prototype; and if that weren't enough, both models' deco-era lines did the hustle into disco-era times as a result of VW's mid-century antipathy toward cosmetic model-year changeovers.
Nor did things end there. The
bud-vase-equipped 1997 New Beetle preserved elements of the brand's prewar architecture -- albeit with a styling vocabulary
"girlie"

enough to eliminate a sizable chunk of market share. After that, it fell to the Beetle's current-generation designers to restore some of its old coal-scuttle allure.
No bud vase: The 2013 VW Beetle Turbo Convertible
So despite heaping more new-old designs onto a car that was already retro before retro was cool; and after a 12-year descent into the compound-curves of distaff marketing -- with their longer front-ends, flatter roofs, more upright windshields (incorporating newly reinforced A-pillars) and D-shaped taillights,
the newest Beetles sport a style that's sleek while remaining iconic.
Our test car was gray-colored
scarab featuring no special nameplate
or other such business. That said, its turbocharged in-line four and six-speed manual helped sooth any sense of deprivation we might've felt.
As a Turbo, the VW had larger brakes
than its non-boosted stable mates. It also came with
18-inch alloy wheels

, a stiffened anti-roll bar and reinforced front -- and multi-link rear -- suspensions. The '60s trim version is similarly equipped with a turbocharger, but won't spare you its groovy evocation of the Johnson era -- which, as we remember it, was really about the johnson more than anything else.
We drove the Beetle to Woodstock. We weren't trying to be cute or anything -- there was just this wedding there to attend.
Zasu the alarm cat slept in, so setting off on our journey took place closer to dawn than first planned. The VW's
7.1-cubic-foot trunk

could barely hold more than
a couple of small suitcases, but -- up front -- its
2.0-liter

engine fired up smartly in the dew-laden air to impart little in the way of exhaust note, but nonetheless signal a readiness to roll.
With the Turbo warming its way through early throttles and revs, we
drove out

to where the northern suburbs' Potemkin-Village farms gave way to the land of the real thing. Throughout, the cabrio performed admirably -- although not to the level of such pocket-rocket competitors as the Fiat 500 Turbo and Chevy Sonic RS. There was some turbo lag, of course, added to which the convertible's
structure sometimes produced a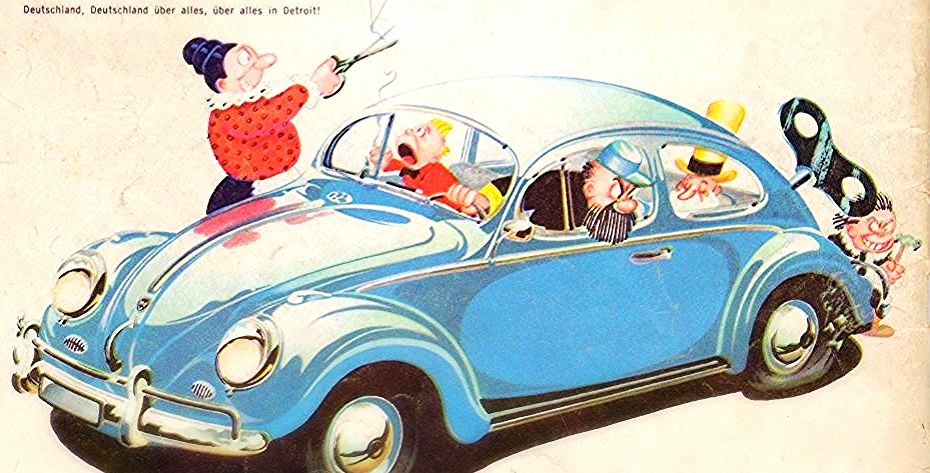 Die Vater
: Wo
sind im Text
beschrieben,
die Tiere
?
subtle rocking motion like you might see
merrily bouncing a carload of stogie-chomping hounds and zoot-suit-wearing ducks
in an old Katzenjammer cartoon.
We crossed into Pennsylvania only to find its fleets of Freightliners and Ford Super Dutys obscured by the VW's top. While the triple-layered covering nicely deadened sound and maintained the cabrio's hunkered-down look, it turned even simple lane changes into more of a game of Battleship than was any fun. So, under one of those gas-station flags that make the Star-Spangled Banner seem sized for a car antenna, we lowered the thing (the top that is, not the flag), to open the Beetle's faux-carbon-fiber-trimmed interior to the sky.
With the top down, any zoot-suited
water-fowl in the back would've been freed from the claustrophobia it induced. As sun and wind played across their feathered fedoras, they could peer over the
Volkswagen's 50-50 split seats, past its
dash-mounted pod (incorporating a stop watch and gauges for oil temperature and boost pressure), and out onto a scene in which the interstate tore through a pretend forest before climbing into the Appalachian foothills -- gateway to the Keystone State's coal country -- some five miles distant.
Not being a hybrid, the Turbo didn't run on coal. Rather, it took high-test. We weren't so very different, and what with morning getting on, began to think about stoking up on scrapple and eggs .
Hmmm. Seems like we'd had this Penn-Dutch breakfast hereabouts once before.
But, we wondered, just where?
Dunno, came the answering thought. Maybe at that log-cabin diner
dimly-recalled

off some upcoming exit.
"That exit was Pine Grove!" hollered a stogie-chomping hound while desperately clinging to some exterior bodywork.
"It wasn't Pine Grove," proclaimed one of the boutineer-wearing ducks from his backseat perch. "That diner was in Frackville
."
Recognizing this last remark for the attempt at leading us astray it was,
we began hoovering the hilly horizon something hard. As t

he turbo spun up to reel in far mountains, its whine said that this convertible is the closest a Beetle comes to being a GTI. By such means, the car left
precincts

as plastic as Barbie's

Dream House to climb onto

a leafy parkway
, carved, presumably, from the region's anthracite sworls. The Bug settled onto this road nicely, its more subtle driving characteristics -- including reasonably precise steering and a supple ride -- coming to the fore.
P

ine Grove and Frackville lie within Eastern PA's coal patch, where towns and to
pography

went into a decline along with the demand for anthracite. Here villages huddle against fields as they did when built by the area's German, English, Welsh, Irish and Polish immigrants; while in nearby
woods

, mounds of tailings still follow coal seams, and creeks float the dust of processed earth.
Franz Kline, Pennsylvania Mining Town, Oil on Canvas, 1947
On the lookout for scrapple, we cruised these bituminous burgs' bleak streets, their woodframe houses seemingly held aloft by the flyspecked gin mill or pizza joint fixed at the end of each ramshakle row.
Not that all patch towns follow this design formula, as one village we saw somehow resembled a run-down Edwardian beach resort; while another looked like an old Bronx neighborhood set along a rural stretch of the Reading's right-of-way. Regardless, each stood in contrast to the general run of Northeast hamlets -- places
where the popular pastime usually involves more antiquing
than
Yuengling.
Little of this paints a pretty picture, we know. Anyone reading it would think the Anthracite Coal Region unlikely to inspire a soulful remake of How Green Was My Valley. If so, we apologize -- for several similarities exist between Richard Llewellyn's quaint Welsh mining town and these potty Pennsylvania parishes
.
For one thing -- despite its new lines -- the VW convertible still looks precious in either.
You need only pilot one of these soft-tops down a coal-town's main drag to sense how close it comes to the metrosexual end of the Antiquing-Yuengling spectrum. Sure, some locals might like the VW's German bloodlines and crisper bodywork -- but set amid the carbon-belching diesels driven by these Keystone Mollie-Maguires, the little
VeeDub resembled the prize poodle in a special on doggie makeovers. And so, while in agreement
with most Pennsylvania miners
when it comes to things like wolfing down scrapple, following that with a Yuengling, driving an old heap and regarding President Obama's merits as, well, dubious -- we were glad to head the test car north again.
Our traveling companions concurred -- although their outlook darkened along with a sky that, with a storm coming in, was taking on our cabrio's cobalt hue.
Anticipating some rain, we pulled onto a shoulder and raised the Beetle's top. A glance westward brought with it the notion that we'd now come deep into Deer Hunter country -- at least it looked that way given the cast of those mountains out there. For the ten seconds it took for the Turbo's roof to drop, we reflected on how Michael Cimino's eponymous film
depicted nature at the same haunted remove
.
"Hey, driver, eighty-six the film critique and get us to Woodstock," one of the ducks squawked while checking his look in the rear-view. "I mean what's next -- a seminar on transgender dance theory?" A pup pointed to the approaching cloudbank, now black with menace. "See that?" he asked, his jaw working a Cohiba in a crazed semaphore, "That is that."
And so it was -- for within moments we were caught in a god-awful downpour. The Turbo's wipers worked madly to reveal
glimpse

s of the rain-swept macadam ahead. That we could tunnel through this torrent with any confidence at all was a tribute to the improved level of handling, stability and control that VW's put into these cars.
In this way, we all -- the feathered, the flea-ridden, the farfigneugen and the furrow-browed -- approached the New York line.
What a difference a borderland makes -- for at this point along its Southern Tier, New York is Oz compared to its Mid-Atlantic sister to the south.
Route 88 wound through this kingdom in fine riparian style, meandering past forests, farms and fields with nary a billboard to urge you to rent its space nor pitch the Bigfoot Tourist Center just over the horizon.
All of which is fine until you consider that every quest classically involves some gateway, or portal, that -- once arrived at -- marks your entry to the Vast and Ultimate Realm beyond. Our quest to make a nephew's Catskill wedding, while not exactly the search for the Golden Fleece, held something of like value for us. Even so, it was reasonable to expect any portal to the Catskills to be less exalted than that which guarded Troy in the Aeneid,
or stood before an ancient Mogu crypt in World of Warcraft.
We

crossed the Susquehanna at Oneonta figuring that -- sure --

the Bigfoot Tourist Center might reasonably serve as
a quest-type gateway

. Either that or the sublime point at which piercing its veil of radio waves brings you within range of Susan Shaw's Saturday Night Gumbo out of Roxbury. But sadly, it was too early in the day for the latter -- and as the former had its complete non-existence working against it -- we pretty much gave up on the idea.
Thus,

the VW began beetling past
the
gnarled trees and rippling streams that fill the Catskill's crooked vales. Like a furtive forest troll, it meandered
through the very region that gave rise to the romance of the American wilderness.

*

An enshrouding fog enhanced
the Mohegan feel of the place

by occasionally parting to
allow ghostly glimpses
of
Rip Van

Winkle's hemlock-gabled hills, and -- in the bluer depths of its mountain coves -- Chingachgook's forest primeval.
Now suddenly confronted by nature in its raw and untrammeled state, the hounds shed their fedoras and adopted a hangdog look of remorse. Ever contrary, the ducks responded by twirling their overlong keychains with feigned indifference. For its part, the Bug stood out wherever it went -- be it our ski-lodge's Lexus-rich parking lot, or a Saugerties bistro at which a rehearsal dinner was held for my fortunate nephew and his beautiful bride.
Grandly named for the New World, the place wasn't all that far from Big Indian. We walked in and looked it over, humming something bouncy by Willy DeVille.
*
We're tempted to add here that VW has an historic tie to the mythos of the Black Forest; but saying so brings us uncomfortably close to mentioning the war -- so we won't.